Viewers: Basic, Premier, and ViP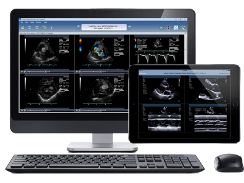 ShowCase for Windows is a diagnostic quality medical image viewer, with full support for clips, stress echo display, powerful de-identification tools, on-screen measurements, and export to non-DICOM formats.
ShowCase Viewer for iPad (ViP) provides high quality hand-held access to your images.
Study Management: Image Center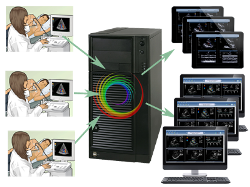 Send studies to the Image Center from your ultrasound machine or other imaging device using DICOM. Store and manage millions of full quality DICOM images on affordable PC hardware.
Use ShowCase Premier or ViP to view studies stored in the Image Center, locally at your practice or remotely via VPN.
Clinical Reporting Integration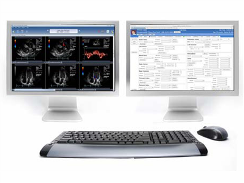 ShowCase integrates well with EncaptureMD or Sonosoft reporting software for a complete image review and reporting solution.
Both products streamline report generation by importing DICOM Structured Report data from ShowCase.
Applications
ShowCase is used in many different types of practice, including Cardiology, Vascular, Obstetric, Emergency Medicine, and General Imaging. ShowCase provides you with valuable tools for accrediation, research, education, and marketing. For a comprehensive list of applications, click here.
Free Trial
Download a free 30 day trial of ShowCase Premier or ShowCase Image Center.
Caution: Federal law restricts this device to sale or use by or on the order of a physician.